April Dorey, Investment Advisor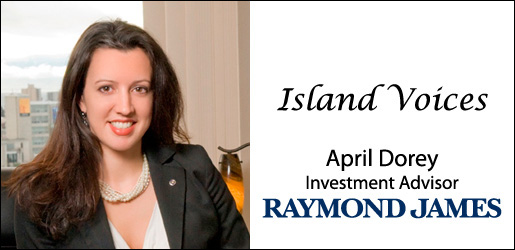 Current Article ∙ Archive ∙ Back to Island Voices

April Dorey, FMA, FSCI
Investment Advisor, Raymond James
April Dorey is an Investment Advisor with Raymond James. She began her career in the financial services industry more than fifteen years ago. Her career highlights include winning the National Award for Service Excellence from a previous firm in 1998 and being awarded the Fellowship of the Canadian Securities Institute in 2006. April has a Bachelor of Commerce degree specializing in Entrepreneurial Management. April is licensed through IIROC and FINRA allowing her to deal with residents of Canada and the United States.
Please feel free to contact me if you have any questions regarding your current portfolio or to explore options for future investments.
April Dorey, B.Comm, FMA, FCSI
Financial Advisor
Raymond James
10th Floor, 1175 Douglas Street
Victoria, BC.
Tel. 250-405-2429 or 1-888-778-0356
april.dorey@raymondjames.ca
www.aprildorey.com
Current Article: September 2011
Market correction and comment on Great West Lifeco
These clearly are uncertain times and they feel bad; however, downturns historically have been a normal part of the economic cycle. We've gone through tough times before and we have survived. Watching your hard earned savings go up and down in value is stressful, but please bear with me for a moment.
For fun, let's look at the Canadian insurance company Great West Lifeco. The shares have declined over the past few weeks, just like most companies. However, unlike most companies, Great West Lifeco pays their investors a dividend of $1.23/share which works out to a current yield of 6.256%.
Instead of relying solely on market growth from your investments, the strategy that I have employed with most of my clients is using both growth and income to achieve our targeted returns.
Great-West Lifeco (GWO) has raised its dividend consistently over the past 20 years. For the purposes of the following example, let's look at the period between 2000 and 2005. If you can remember, this was an extremely volatile time in the stock market, very similar to what we are experiencing now: with the bursting of the tech-sector bubble, 9-11 bombings, the war in Iraq and extreme weather conditions.
Source: Thomson One
In 2000, Great-West stock was trading about $12 a share and paid a 32 ½ cent dividend, giving a yield of about 2.71% to their investors.
If as an investor your target rate of return was 8%, in the first year of your investment GWO shares would have to appreciate by 5.29% to achieve your goal. This can be a far less risky strategy for an investor aiming for an annual return of 8% compared to picking a small cap or growth stock and hoping solely for price appreciation.
Using the original cost of $12/share, the dividend yield increased to 7.00% from 2.71% over the 5 year period. Therefore, if you had bought Great-West Lifeco stock in 2000 at $12, and still owned it by 2005, the stock price would only need to increase by 1.00% to meet your target rate of return of 8%. To "sweeten the pot" even further for investors, the stock price has also increased over time.
Investing in lower risk "some might even call them boring" stocks with good dividends, may help you achieve 8% growth even in a volatile or slow market. A dividend-focused approach can help eliminate stocks with higher risk and allow us to concentrate on conservative companies with a history of dividend growth. Keep in mind that your total return is a combination of dividend income and capital appreciation. The contribution from dividends tends to stabilize overall returns, while the share price is often a more volatile component on a short-term basis.
Great-West Lifeco is just one example of numerous companies that offer stable and consistent dividend growth. Conservative dividend-paying investments can offer a safer route to long-term wealth creation.
In the 80's and 90's, inflation, interest rates, government debts were all declining. Today, these key measures are increasing. The stock market is more volatile. It is no longer easy to achieve an 8% – 10% return on your investments without significantly increasing your risk.
"Why It's a Great Time to Be an Investor"
"This is what you get paid for. Volatility. Stomach-churning drops. Watching your paper wealth evaporate. Stock market profits aren't free. Garbage collectors (at least, in non-union towns) know they have to turn up in the morning and pick up people's trash in order to get paid. Piano teachers know they have to teach piano to pay the rent. Shop keepers have to tend shop. Only investors in the stock market expect to be like the lilies of the field. They toil not, neither do they spin. Could Wall Street just send us the checks every month please? The reality is that investors have to earn their money, through brains and nerves. The brains can mean doing smart things – like buying Apple when it started to turn around. More often, they simply are doing dumb things, like buying Pets.com. The nerves mean not panicking or getting swayed by fear, at the bottom, or greed, at the top."
… The Wall Street Journal Online
Sept. 17, 2008
Please feel free to call me if you'd like to discuss your portfolio, Great West Lifeco stock, or this in more detail. I'm here to help.
April M. Dorey, B.Comm, FMA, FCSI
T: 250-405-2429 or 1-888-778-0356
april.dorey@raymondjames.ca
www.aprildorey.com
*Please note, changes in tax laws may occur at any time and could have a substantial impact upon each person's situation. You should discuss any tax or legal matters with the appropriate professional. Written by April Dorey and expresses the opinions of the author and not necessarily those of Raymond James Ltd. Statistics and factual data and other information in this newsletter are from sources RJL believes to be reliable but their accuracy cannot be guaranteed. Securities-related products and services are offered through Raymond James Ltd., member CIPF. Financial planning and insurance products and services are offered through Raymond James Financial Planning Ltd., which is not a member CIPF. In accordance with privacy legislation, the individuals you are referring must consent to their information being provided to me.
© April Dorey. Articles, statistics and other data referred to or cited are intended to provide readers with potentially useful information for their own personal use. *Please note, changes in tax laws may occur at any time and could have a substantial impact upon each person's situation. You should discuss any tax or legal matters with the appropriate professional. Reproduction without permission is permitted with due acknowledgement. The views expressed are those of the author, April M. Dorey, and not necessarily those of Raymond James Ltd. It is provided as a general source of information only and should not be considered to be personal investment advice or a solicitation to buy or sell securities. Investors considering any investment should consult with their Investment Advisor to ensure that it is suitable for the investor's circumstances and risk tolerance before making any investment decision. The information contained in this article was obtained from sources believed to be reliable, however, we cannot represent that it is accurate or complete. Raymond James Ltd. is a member of the Canadian Investor Protection Fund.
Archive
March 2011
Investment Outlook
February 2011
Assessing the American Housing Market
January 2011
How U.S. Estate Tax Applies to Canadians in 2011
December 2010
Benefits of Cutting Your Losses
August 2010
How Planning Benefits Investors
June 2010
Tax-Free Savings Accounts
May 2010
Profit by Empowering Women
April 2010
Divorce Decisions
March 2010
Managing Your Maturing Family Owned Business
December 2009
Add Battery Power to Your Portfolio
November 2009
Leaving a Legacy – Will You Be Remembered as a Burden?
October 2009
Regions of Growth – Investing in Emerging Markets
September 2009
Opportunities in China for Canadian Investors
August 2009
Inaction can be a strategy – Or it can represent a lost opportunity
July 2009
Timing is Everything:When to Take Canada Pension Plan Benefits
June 2009
Investment Outlook
May 2009
About Bonds
April 2009
Don't Let Age Stop You
February 2009
Understanding the Current Financial Crisis: Where Should You Invest?