Russ Hellberg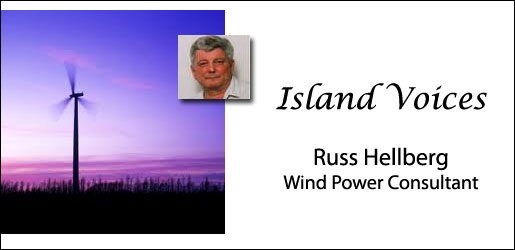 Current Article ∙ Archive ∙ Back to Island Voices
Russ Hellberg
Russ moved to Port Hardy in 1980 after serving in the RCAF for 20 years flying CF-100 and CF-101 aircraft.
He was elected to three terms, nine years, as the Mayor of Port Hardy. During this time, he was Chair of the Coastal Communities Network, the B.C. Ferries Mid-Coast Stakeholders and the North Coast Trail Group. Russ was also a director of Fisheries Renewal B.C. and the Forest Alliance of BC and is past Chair of Oceans Industries British Columbia (OIBC) and the Vancouver Island Economic Alliance (VIEA).
Russ worked for a number of years as Community and Government Liaison for Nomis and Rupert Peace Power Corp who have a series of wind farm under development near Port Hardy, Port Edward and in the Peace River Region. Russ is now a Wind Farm development consultant.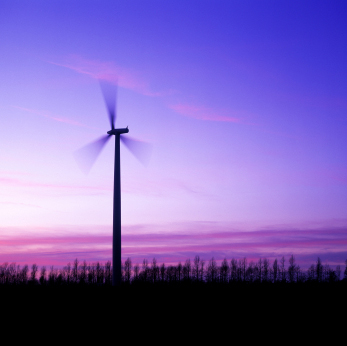 Current Article: October 2010:
The following press release from Canadian Wind Energy Association (CanWEA) shows that wind energy has taken hold in Canada and is expanding. BC is finally getting on board with two projects on line and several more to follow over the next few years.
09/14/2010
2010 expected to see significant growth in wind energy in Canada
Wind energy contributing economic, social and environmental benefits with addition of 754 MW of new installed capacity
OTTAWA, September 14, 2010 – Canada is projected to end 2010 with 754 MW of new wind energy capacity – representing $1.7 billion in new investment, the Canadian Wind Energy Association (CanWEA) announced as energy leaders gathered in Montreal for the World Energy Congress. This will bring Canada's total installed wind energy capacity to 4,073 MW, enough power to meet the needs of over 1.4 million homes annually.
"Building on the growth in 2010, we can also state with a high degree of certainty that 2011 will be a record year for wind in Canada with more than 1,000MW likely to be installed," said Robert Hornung, president of CanWEA. "We expect wind energy's rapid growth in Canada to continue with production tripling in the next five years. The rapid pace of wind energy development presents a significant opportunity for Canadian manufacturers, service providers, landowners and rural municipalities."
Canada currently has 3,499 MW of installed wind energy capacity. Ontario is the current provincial leader in installed wind energy capacity accounting for 1,248 MW (one-third) of wind energy development. Quebec and Alberta follow at 663MW and 656 MW respectively (one-third), and Canada's remaining seven provinces together account for the remaining one-third. Wind energy has increased ten-fold in the last six years in Canada as governments seek ways to meet rising energy demand, reduce environmental impacts of electricity generation, and stimulate rural and industrial economic development.
"We believe wind energy continues to enjoy broad popular support, as evidenced by a recent Ipsos Reid survey which found that nine in 10 Ontario residents support the production of wind energy in their region of the province for its economic and environmental benefits," said Hornung. "We certainly do not take for granted support for wind energy development and that is why our industry is currently working on implementing an Industry Code of Practice as well Best Practices in Community Engagement which will help to guide responsible work in local communities."
About CanWEA
CanWEA is the voice of Canada's wind energy industry, actively promoting the responsible and sustainable growth of wind energy on behalf of its more than 400 members. A national non-profit association, CanWEA serves as Canada's leading source of credible information about wind energy and its social, economic and environmental benefits. To join other global leaders in the wind energy industry, CanWEA believes Canada can and must reach its target of producing 20 per cent or more of the country's electricity from wind by 2025. The document Wind Vision 2025 – Powering Canada's Future is available at www.canwea.ca .
Archive
September 2010
Knob Hill Wind Farm – 99 MW "Phase 1" – Transaction with International Power Canada, Inc.
August 2010
Canada ranks among top 10 locations for renewable energy investment: Ernst & Young
July 2010
Global Wind Day
May 2010
BC Green Energy Task Force: Clean and Renewable Electricity Development
April 2010
Wind Power on Vancouver Island
February 2010
Effects on Humans of Sound Created by Wind Turbines
December 2009
B.C.'s wind power sector catches updraft with three major projects
August 2009
Green Power Gets Green Light
May 2009
Access to the Power Grid
April 2009
Run-of-river hydro critics are missing the big picture, organizer says
March 2009
Independent Power Producers of BC Fact Sheet: Wind Generation Resources in British Columbia
February 2009
Independent Power Producers of BC Fact Sheet: WIND
January 2009
New Green Energy Projects Generate New Green Energy Jobs
December 2008
Challenges for the Wind Industry
August 2008
Progress at last for wind power in BC
July 2008
First Nations support green run-of-river power projects
June 2008
Wind Energy Ready to Answer BC Hydro's Call for Power
February 2008
Birds, Bats and Wind Farms
December 2007
Wind Power is Coming to British Columbia
November 2007
BC's New Energy Plan
October 2007
Change is in the Air
September 2007
Wind Power on Vancouver Island
Current Article ∙ Archive ∙ Back to Island Voices