Newsletter – October 2010
Back to Newsletter Archive | Back to Island Voices
October 2010 Newsletter for Seniors on Vancouver Island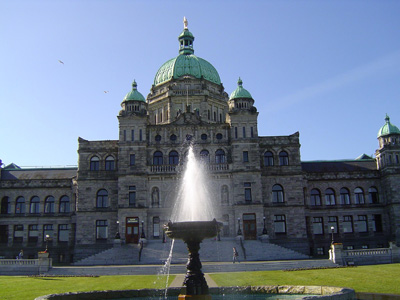 About 20 years ago when meetings played a big part in my life I had two T-shirts made up with the following statement on the front:
The world is governed by those that show up
and those that speak when they get there.
I felt that no matter what the meeting was about, whether it was political, financial or social, decisions were being made by a small group of people who often had a vested, myopic, interest in the outcome. They made decisions in comparative isolation that sometimes had profound effects on society. This is still the case. They are allowed to do this because of either apathy on the part of the general public or the meetings take place without public awareness.
Events have happened this year that will I hope act as a wakeup call to Politicians of all stripes, and take us to a more responsible form of democracy.
This was the province wide reaction to the implementation of the HST. Whether or not the HST stands or falls, whether or not it is good or bad, the winner is democracy. A decision made by Politicians was imposed on the people of BC. People across the province reacted against it by using a piece of existing legislation, which was designed by politicians to fail, and used it for the purpose of which it was supposed to have been used for. Hopefully this is the beginning of an era where politicians realize that are responsible to the people that they represent and no one else.
People in the Campbell River area have inadequate access to publicly funded long term care beds for seniors. This results in Seniors having to wait for months to be allocated a bed in a Care Facility which results in them either occupying an acute care bed in the hospital that is not equipped for this type of care; or they are shipped down island away from their families and loved ones or they languish at home putting incredible strain their families and friends. All this is happening while there are beds in local facilities that were purpose built for the long term care of seniors sitting empty and could be used by VIHA at a fraction of the costs they are paying now. About a month or so ago a group of Campbell River residents called a meeting to see what they could do about this themselves. A Coalition was formed to address the health care crisis facing seniors on North Vancouver Island. As a result of the publicity given by the local newspapers after this meeting the Vancouver Island Health Authority and local politicians are now very aware of the issues. For further details of the Coalition and to be a part of their future efforts go to Seniors 101's Community Resource Guide, scroll down to the alphabet line and click on the letter "C" and open the "Seniors Care Crisis" banner.
A similar scenario is happening in the Parksville/Qualicum Beach area. Here the lack of an urgent care centre for the area, which has a population of about 45,000, plus about 500,000 tourists in season, is the issue. This puts the whole population at risk. For example if anyone should suffer a heart attack in this area they have to be transported to either Nanaimo or Comox for stabilization and treatment. Enough said. Fortunately local residents have banded together to effect change. Their efforts can be viewed by again going to Seniors 101's "Community Resource Guide", scroll down to the alphabet line and click on the letter "O" and open the "We need an Oceanside Heath Centre" banner.
In Victoria meanwhile a group local farmers, chefs local food enthusiasts is working hard to establish a permanent "Public Farmers Market". As many of the past 101's 'Newsletters' bear witness, Seniors 101 strongly supports, and encourages others to support Island Farmers & Farmers markets. The production of local fresh, high quality food is critical to both the continued survival of family farms and our future well being. We all must support this effort. To see more about this project go to "Island Farmers & Farmers Markets" section of Seniors 101 and click on the "Victoria Downtown Public Market Society" banner.
A big thank you to all the people involved in these projects. You not only "showed up, you spoke and you did something about it".
Best regards,
Roy Summerhayes
250-752-4837