Salish Sea Waters Catalyze Economic & World Heritage Initiatives
Posted on September 24, 2016 by Roy S
"There's something special in the water of the Salish Sea,' Governor Inslee said yesterday, and we agree," said Laurie Gourlay in a letter to the Washington State Governor and BC Premier today.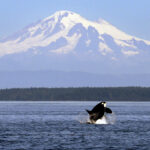 Following yesterday's announcement by BC Premier Christy Clark and Washington State Governor Jay Inslee a cross-border non-profit organization has sent a letter requesting to be involved, suggesting that this 'Cascadia Innovation Corridor' could further a UNESCO application to have the Salish Sea declared a World Heritage Site.
"This is a great opportunity to partner an economic initiative with our west coast heritage," states the letter, sent by Salish Sea Trust interim Director Laurie Gourlay.
Yesterday's announcement of a technology-focused summit dovetails with work the Trust has underway to engage all sectors in a collaborative on-line initiative. It also reflects the invitation of the Prime Minister of Canada, this past August, for Canadians to submit applications for World Heritage Site consideration.
"Our first small step began with a rather timid cross-border invitation to all residents, all eight million of us living around the shores of the Salish Sea." Gourlay states. "I'm pleased to say that it has led us to what could quite honestly be a giant leap for humankind, technologically-speaking, if we can borrow that monumental phrase."
The World Heritage Site initiative hopes to leave a legacy of 'outstanding universal value', and to help identify and protect the historic, cultural and natural heritage of the Salish Sea. "In the next step of our work we hope to provide an 'outstanding hi-tech tool of universal value', one that guarantees meaningful consultation with all who live here and have interest in the Salish Sea," Gourlay stated. "The promise of engagement with all sectors and interests offers us a historic moment here and now".
Last week the Trust sent letters to Secretary of State John Kerry, asking that the Salish Sea be considered a priority as the 'Our Ocean Conference' was convened along with the support of many ocean nations in Washington DC. Canada's Prime Minister was similarly contacted.
Today's letter from the Salish Sea Trust to the BC Premier and WA Governor mentions the non-profit's small technological venture via a simple email Listserve that invites the public to post information, articles, scientific studies as well as their stories and photos about the Salish Sea. "We noticed that there was a need for everyone – scientists, politicians, First Nations and the general public to share the information they have on this important inner sea. There was no cross-border means to speak about the beauty, the business and the culture we all share here," states Gourlay. "Our Listserve is good, and it's helpful, but it still only offers a small way for all of us to compare notes and contribute to the solutions, challenges and opportunities we have here by the Salish Sea."
The Trust's giant leap comes from the last two months work by the non-profit organization, challenged as it was by the daunting task of gathering background reports and information relevant to the Salish Sea for the World Heritage Site application to UNESCO. Hopes began to soar for the Trust after being introduced to the past year's work by a Washington state expert in computer science and collaborative support systems. The innovative neo-4j graph database system is expected to assemble thousands of articles, studies and reports. With links to the events, organizations and conversations that are underway on such subjects there is opportunity for a virtually instantaneous exchange of information.
"This could be a sea-change in the way we understand and plan cross-border and cross-cultural ventures here in the Salish Sea and Cascadia Corridor," Gourlay states in his letter to the Premier and Governor. "And it could apply to many other regions and initiatives around North America and internationally as well. We are on the verge of a breakthrough in communication that will make significant strides in how we plan our future here on the coast …and a demonstration of the technology is expected in the very near future."
The Trust letter goes on to describe the challenges of conventional databases and related tables for storing and comparing complicated reports and communications relevant to UNESCO and World Heritage Site interests, particular to the Salish Sea. Such matters as the ecology, biodiversity and habitat needs of very different species are noted along with the oceanographic-hydrographic-meteorological data, as well as the anthropology, traditions and local knowledge, geography, etc which need to be considered.
"We have a very exciting opportunity to advance business, economic, cultural and environmental interests together,"states Gourlay. "And we're inviting the Province of British Columbia and State of Washington, as well as the US and Canadian governments, to work with us and with the First Nations who have lived here and managed these waters and shores for five thousand years. We have the possibility, here and now, to 'float all boats' – to advance a 'Cascadia Innovation Corridor' along with a World Heritage Site application for the Salish Sea."
The Salish Sea has a once in a decade opportunity to submit an application for a World Heritage Site, with a January 2017 deadline. Those who are interested in contributing to the email Listserve, or wish further information about the database technology that's in development, should contact the Salish Sea Trust.
-30 –
For more information:
Laurie Gourlay
interim Director, Salish Sea Trust
(250 722-3444)
Salish Sea Trust, Box 333, Cedar, B.C., V9X 1W1 250.722.3444, <SalishSeaTrust@shaw.ca> (www.salishseatrust.ca
This entry was posted in
Island Voices
. Bookmark the
permalink
.