Morganne Michel Pickering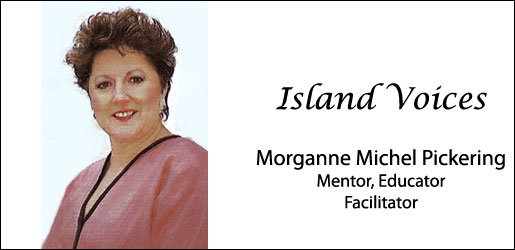 Current Article | Archive | Back to Island Voices
Morganne Michel Pickering
Morganne is an internationally renowned mentor, educator and facilitator. In the past 25 years she had coached both individual clients and corporations in Canada and the US. Her private practice "In Harmony: Living From Your HeartMind", focuses on and supports the journey of women and their lives. As a speaker and presenter, her topics are "Strategies for Success"; "Living and Speaking Your Life Out-Loud"; and "Is This All There Is?". She is the creator of 'Wise Women Retreats and Groups'.
Contact Morganne at 250-923-0084 or nharmony@telus.net
Current Article: July 2012

My Soul's Journey and My Body
(Along for the Ride)
It has begun to occur to me that life is a stage that I am going through and that it really is about my soul's journey; what it wants to experience, grow from and delight in creating. I (my body) is just along for the ride. Continue
Archive
March 2012
All You Need is Love
January 2012
Revolution!!! Co-creating a New World!
December 2011
Choices
October 2011
The Mailman
September 2011
Peace Now
August 2011
Have You Ever Considered Helping a Friend or Family Member Create the Last Days of their Lives?
May 2011
Bloomed or Still Blooming?
April 2011
The Nature and Nuturing of Apathy
March 2011
Timing
December 2010
It's All About Me … And You
November 2010
Cycles
September 2010
Peace Anyone?? Remember Us?? = Peacekeepers
August 2010
Power Places
June 2010
Topics Close to My Heart
Current Article | Archive | Back to Island Voices