Facing the challenges of dementia.
Posted on January 26, 2018 by Roy S
Is the Person You Care for at Risk of Wandering or Getting Lost?
Joe and his wife made a wonderful life for each other on a small farm in Sooke. When Joe's wife was diagnosed with Alzheimer's, a degenerative disease, Joe was determined to care for her in the familiar surroundings of their family home. He found it challenging but rewarding, and things went along well until one night when his wife grew confused, having lost all memory of the 40 years they had lived together. She decided to leave the house to find the childhood home she still remembered.
"The coldest night of the year, she went outside…" says Joe. "If she had left the yard, she may have died from the cold and rain."
Joe's concerns are common for family members caring for loved ones who suffer from Alzheimer's or other forms of dementia. As the disease progresses, sufferers often grow confused, and that can lead to a sudden, inexplicable wandering. Once it happens the first time, the possibility of it happening again creates huge anxiety for their care providers.
"My fear is that Mom will get out of her room and wander into the kitchen while I'm sleeping. I stay up most of the night and go to bed around dawn," says Peggy. "Every time her bed squeaks in the night, I'm up like a shot. I'm exhausted."
The statistics on wandering are surprising. According to surveys conducted by Home Instead Inc. in early 2016, interviewing 1,110 family caregivers across North America (86% in the U.S. and 11% in Canada):
46 percent of Alzheimer's family caregivers say their loved one has wandered off or gotten lost.
1 out of 4 family caregivers called the police to help find their loved one.
49 percent of family caregivers reported a "near miss" where they feared the worst but were able to get their loved one back to safety unharmed and on their own.
71 percent of family caregivers who reported a wandering incident currently are taking precautions to help prevent their loved one from wandering or getting lost again.
If a loved one you are caring for is at risk of wandering, there are some preventative measures you can take to help you keep them safe and sound (and to help you keep your sanity!).
Secure your home and make it as safe as you can. It might help to make a path where it is safe for your loved one to wander. Closing off certain parts of a room or locking doors can help achieve this goal. If possible, create paths outdoors or through your garden.
Keep walkways well-lit. Install brighter lights in entries, doorways, stairways, and areas between rooms and bathrooms. Use night lights in hallways, bedrooms, and bathrooms to help prevent accidents and reduce disorientation.
Disorientation can lead to less awareness of surroundings, so remove tripping hazards. Keep floors and other surfaces in your home clutter free. Remove objects such as magazine racks, coffee tables, and floor lamps.
Install barriers and fences in the yard to help ensure your loved one doesn't wander from home into unsafe territory.
Put up a sign. Sometimes a sign that says "stop" or "do not enter" will prevent them from leaving a safe area.
Even if you find it embarrassing, consider talking to your neighbours about the challenges you're facing. They might be willing to give you a hand and they can at least keep a friendly eye open on your behalf. Sometimes wandering appears purposeful, so they should know if your loved one is not supposed to be out and about.
Make sure your loved one wears bright clothing at night and has I.D. on them at all times – just in case they somehow escape.
Use radio tracking devices. There are several excellent organizations in Victoria that can help you with this wonderful technology, including Project Lifesaver through the We Rage, We Weep Alzheimer's Foundation, Philips Lifeline, or CanAssist through the University of Victoria.
There is more advice, tips, and stories from other care providers to be found if you go online and visit preventwandering.ca. If you're feeling overwhelmed and need the help of bonded, courteous and professional CAREGivers, give us a call for a free interview.
To Us, It's Personal.
Wishing you success in caring.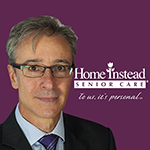 Alistair Hicks,
Home Instead Senior Care
222-1595 McKenzie Avenue
Victoria, BC
250-382-6565   www.homeinstead.ca/victoriabc
This entry was posted in
Island Voices
. Bookmark the
permalink
.